KM2-18X: LIGHTWEIGHT INFRARED ASPHALT HEATER FOR RECYCLING ASPHALT
Lightweight Infrared Asphalt Heater for Recycling Asphalt
KM2-18X™ – 105×200. Ft. Heat-Zone
The KM 2-18X is a lightweight infrared asphalt heater that can be easily moved to service areas previously inaccessible for asphalt repairs. The KM 2-18X is the perfect machine for new pavement fixes and utility cuts repairs.
The KM2-18X Lightweight Infrared Asphalt Heater Features:
Two independently controlled heating zones
Mounted on 4 swivel casters for easy maneuverability
Automatic Pilot Ignition
Automatic cycled heating time for maximum infrared absorption
We Are The Infrared Process Experts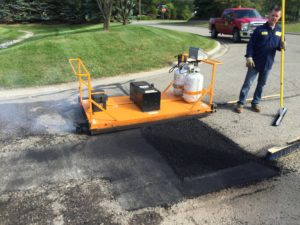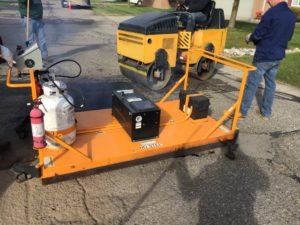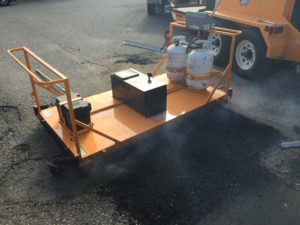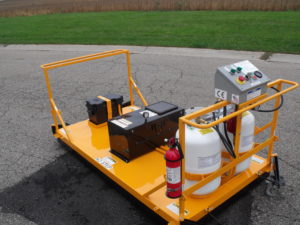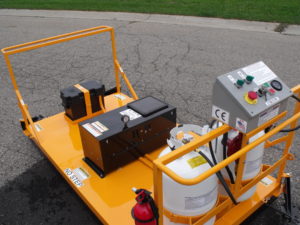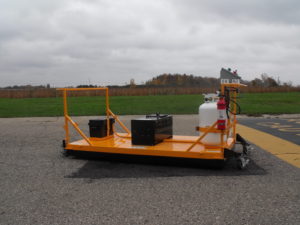 KM2-18X Lightweight Infrared Asphalt Heater Specifications
Dimensions:
200 x 148 x 110 high
Heating Element:
Infrared Radiant; 1″ Ceramic Blanket
Fuel:
Propane
Heating Zones:
Two (2) 106 x 99
Zone Controls:
On/Off with Switched Electronic Cycling
Propane Supply:
2 – 15 kg cylinder and removable rack
Propane Consumption:
Cycled Burn 5,44 kg Per Hour
BTU:
300,000
Blower:
12 Volt DC powered
Battery:
12 Volt DC marine gel (included)
Specifications Subject To Change
The lightweight portable KM2-18X is perfect for:
Small pothole repairs
Emergency repairs
Bird bath repairs
Joint repairs
Thermal plastic templates
and more  

                                                                                                                                                                                                                                                              
Utilizing the same heat source as the popular KM 4-40 and KM 4-48, the KM 2-18X and Lineal Recyclers are an option in size and dimension for asphalt recycling.
Teamed with a KM hotbox/reclaimer and a Asphalt Recycler you will make asphalt repairs year round.
_______________________________________________
Phone: +39 095 288 0885  Administration: +39 349 806 1726
E-mail: tsasfaltisciuto@live.com