The MA 10 Sealcoat Application Kettle is an asphalt crack repair machine that comes in 38 Liters capacity and is designed for residential or commercial parking lot crack sealing. This melting kettle works both on hot or cold pour materials.
Mounted on steel wheels
Equipped with spring loaded hand controlled release valve
Steel screed for scraping off sealant with stop plate
KM International's MA 10 application kettle comes complete with a hose regulator, temperature gauge, and propane bottle platform.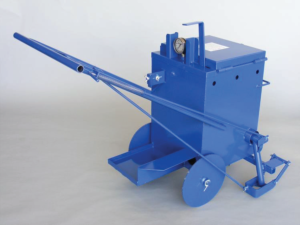 MA 10 Sealcoat Application Kettle Specifications
Dimension:
120L x 69W x 92H
Weight:
59 Kg
Capacity:
38 Liters
Specifications Subject To Change
Phone: +39 095 288 0885  Administration: +39 349 806 1726
E-mail: tsasfaltisciuto@live.com